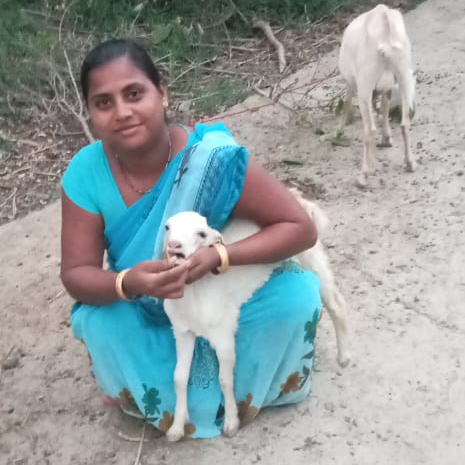 Hello, I am Sulkeha Devi, and I want to share my incredible journey of transformation. My husband, Prem Chand Thakur, and I live in Choraut Purbi, facing the harsh realities of being daily wage laborers. Our lives were a constant struggle, unable to make ends meet or secure the basics for our household. However, a ray of hope entered our lives when we discovered the BSLD program through BVHA supported by Heifer International.
I come from Verma village, and this BSLD program, is working with women like me to improve our income and livelihoods. The program focuses on various options, including better animal management and agricultural development. The moment I learned about it, I knew I had to be a part of it.
Two years ago, I joined a Madhuri self-help group consisting of 20 women, all my neighbors. Through this group, I underwent various trainings, ranging from SHG management to kitchen gardening and improved animal management. We pooled our resources through joint savings in our group account and took loans whenever required.
After learning about improved animal management, my interest was aroused by the idea of goat farming using the new techniques I had acquired during the training. However, money was a constraint. Recognizing my passion, the project team stepped in and helped me secure a bank loan of Rs. 20,000 from a local bank. With the funds in hand, my husband and I built a sturdy bamboo goat shed with cement pillars. We then purchased four goats from the local market, provided them with proper vaccinations and care, and ensured they had a steady supply of fodder.
I even set up an Azolla tank to provide nutritious feed for our goats. As time went on, their health improved, and so did their growth. We were pleased when 2 of them given birth of 4 kids and I took the initiative to vaccinate and deworm them at the right intervals, thanks to the training I had received.
Today, I am the proud owner of eight goats, with three of them ready to be sold at a good price. My happiness knows no bounds, as our circumstances have changed for the better. Thanks to the BSLD program and the support of the BVHA project team, my family and I are on the path to a brighter future.