Bihar Voluntary Health Association employs a multifaceted approach to project and programme implementation, operating through both direct intervention and collaboration with network organizations.
Direct Interventions
BVHA directly executing programmes and project activities utilizing its dedicated personnel and resources.
Indirect Interventions
Leveraging its network organization status, BVHA fosters joint project implementations with network organizations. Comprehensive contracts with defined deliverables are established. BVHA plays a crucial role in enhancing the capacity of project personnel within these organizations, offering guidance and support during on-site monitoring. Regular project reviews are conducted to ensure the steady progress towards project goals. BVHA facilitates robust liaison between partner organizations and government departments at the block and district levels, ensuring effective collaboration.
Organizational Strategies for Project/Programme Implementation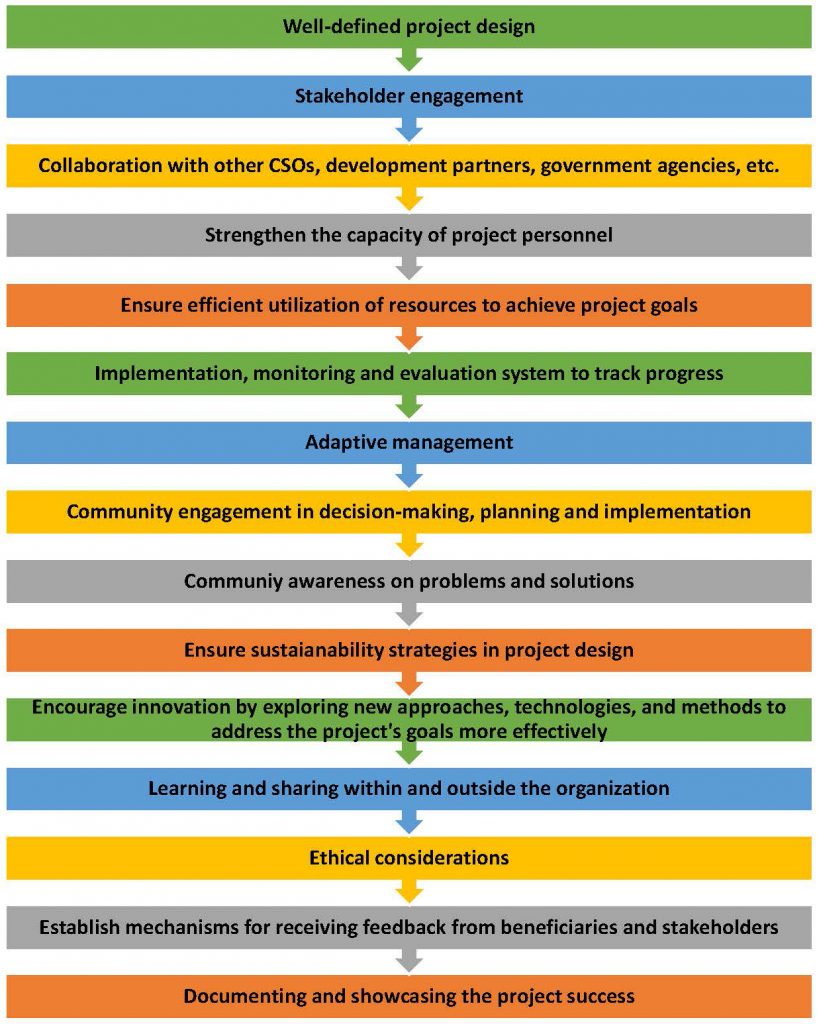 BVHA's Comprehensive Implementation Strategy
At BVHA, our commitment to impactful project implementation is guided by a multifaceted approach that encompasses the following key strategies:
Clear Project Design: We prioritize the development of well-defined project designs that thoroughly outline project objectives, activities, timelines, and expected outcomes. Our project blueprints distinctly articulate the challenges we seek to address and the transformative change it intends to bring about.
Stakeholder Engagement: At the heart of our strategy lies active stakeholder engagement. We collaborate closely with beneficiaries, community members, local CSOs, and donors during both project design and execution phases, ensuring their voices shape our initiatives.
Building Collaborations: Collaboration forms the cornerstone of our efforts. We foster robust partnerships with nonprofit organizations, government agencies, and local communities. By pooling resources and expertise, we amplify our impact.
Capacity Building: We invest in capacity building by conducting scheduled training, skill development, and knowledge sharing sessions for project personnel and partner organizations. This empowers effective project implementation and management.
Optimum Resource Utilization: Resources are allocated thoughtfully, aligning with project requirements. This includes prudent utilization of funds, human resources, equipment and technology.
Monitoring and Evaluation: A robust monitoring and evaluation framework is integrated into our approach. We meticulously track progress, measure outcomes, and assess the efficacy of project activities. Adjustments are made in alignment with insights derived from ongoing monitoring.
Adaptive Management: Most of the projects which we implement are flexible and are open for adaptability, responding to evolving circumstances, emerging challenges, and fresh opportunities. This flexibility allows us to be more responsive to real-time needs.
Community Engagement: Communities are integral to our projects. We empower beneficiaries by involving them in decision-making, planning and implementation.
Awareness Building on project issues and probable solution through skillful communication through effective medium.
Sustainability Planning: Our forward-thinking strategy includes the development of sustainability plans. Beyond the initial phase, we strategize for lasting impacts.
Innovation: We encourage innovation, consistently exploring novel approaches, technologies, and methods that enhance our ability to achieve project goals.
Learning and Sharing: A culture of learning thrives within our organization. We continuously assess successes and challenges, actively sharing lessons learned with our team. This knowledge guides the refinement of future projects.
Ethical Considerations: Ethical practices are important in each aspect of our implementation. Transparency, accountability, and the protection of beneficiaries' rights remain non-negotiable.
Feedback Mechanisms: To ensure responsive interventions, we establish mechanisms for gathering feedback from beneficiaries and stakeholders. This input informs our strategies and enhances our impact.
Documentation and Showcasing: Best practices and achievements are meticulously documented and shared internally and externally. This not only showcases our progress but also fosters motivation and positive morale within our organization and among our stakeholders.