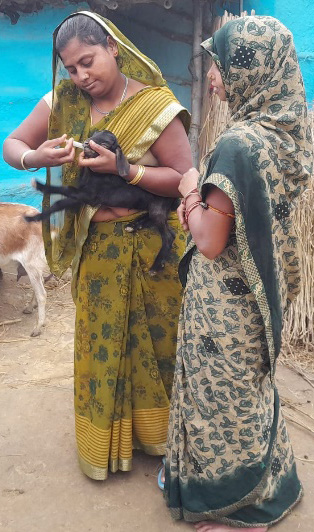 Namaste! My name is Sudha Panjiyar, and I want to share with you the incredible journey that has shaped my life. I am from the village of Choraut Purbi, a place known for its struggles against flooding in the Choraut Block of Sitamarhi District. Life here was never easy; the floods would come every year, leaving our fields submerged for weeks. Our dreams of a prosperous life were often washed away by these calamities.
My education was cut short after the 6th grade. My parents, thinking they were doing what was best for me, withdrew me from school to help with household chores. Soon after, I was married off and moved to my in-law's house in this flood-prone village. My husband was our family's sole bread earner. We were satisfied with our lives, working hard to earn a living and provide for our family.
But destiny took a cruel turn five years ago when I lost my husband. Suddenly, I found myself facing with the weight of responsibilities and a future that seemed uncertain. It was during this time that I heard about the BSLD project by BVHA. This project aimed to empower families like mine through goat farming, improved agriculture practices, and poultry keeping. They were focusing on women like me, believing in our potential to bring about change.
With hope reignited, I joined a Self-Help Group (SHG) established by the project and do the activities within the group, eager to learn and contribute. The training sessions opened up a new world for me. I was particularly drawn to animal health and its impact on our livelihoods. My dedication did not go unnoticed, and BVHA offered me the opportunity to become a CAVE, a Community Animal and Veterinary Entrepreneur.
The journey took me through an intensive 15-day training program conducted by BVHA and Heifer International. Those days were a whirlwind of learning, from theoretical insights to hands-on practical experiences. I delved into the details of animal health, especially for goats, fowls, and cattle. Vaccinations, deworming, and proper feeding practices became my tools to ensure their well-being and growth.
Armed with knowledge and passion, I returned to my village as a certified CAVE. But building trust wasn't easy. People were hesitant to believe in my newfound expertise. However, supported by my SHG members, I pressed forward. Slowly but surely, word spread about the "Pashu Sakhi" who could offer solutions for animal health. My services expanded beyond my village to encompass eight villages and three Panchayats.
Through the growing demand for my services, my income increased too. What began as a humble endeavor to improve our lives turned into a substantial source of earnings, allowing me to make around 8000-10000 rupees per month. Our lives transformed from one of uncertainty to a place of comfort and dignity.
Today, I stand before you as a living testament to the power of knowledge, community support, and determination. The BSLD project and my journey as a CAVE not only changed my life but also the lives of many in my community. My heart swells with pride as I witness the positive impact of our collective efforts, turning the tide against adversity and flooding our lives with newfound hope.
Remember, even in the face of challenges, our willingness to learn and help one another can lead to remarkable success.